3rd Annual Live For Alyssa Benefit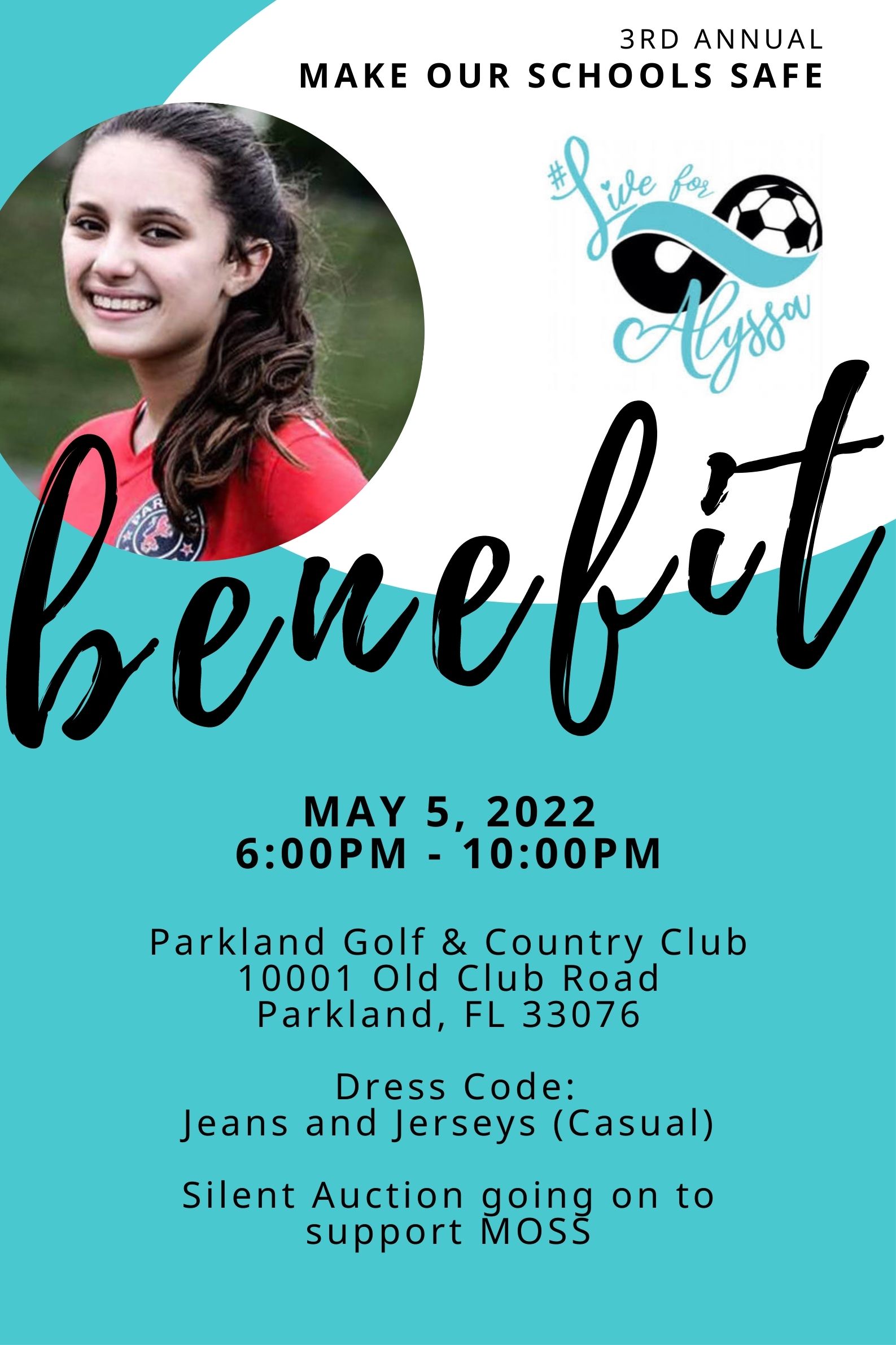 It has been four years since the lives of many in our community, and around the world, were forever altered. February 14, 2018, at Parkland, Florida's Marjory Stoneman Douglas High School, was the scene of one of the deadliest mass shootings in U.S. history. Seventeen lives were lost that day, including that of 14 year old Alyssa Alhadeff. Alyssa was a Freshman at MSD when she was shot 10 times while trying to learn in her English classroom. A senseless victim, Alyssa had led a life full of academic excellence, athletic prowess, and community service.
Not long after the tragedy, Lori and Ilan Alhadeff began a non-profit 501(c)(3) organization called Make Our Schools Safe. The company is dedicated to driving and guiding best practices in school safety. Our mission is to empower students and staff to help create and maintain a culture of safety and vigilance in a secure school environment. To date, Make Our Schools Safe has been able to provide and implement significant safety measures such as Stop the Bleed Kits to various schools in the county, suicide prevention training, a US Secret Service Community Safety presentation, and the development and installation of school safety hardening systems in schools throughout Broward County.
In the most groundbreaking and exciting news, Alyssa's Law was passed in Lori Alhadeff's home state of New Jersey, and, most recently, passed into law in Florida by Governor Ron DeSantis. Alyssa's Law is also on the docket in Washington, D.C. for passage at the Federal level. Alyssa's Law requires all public schools to install panic buttons in order to alert law enforcement and rescue officials to be notified of an emergency on campus.
Changes are being made, but we are only able to do so with your continued help!
Tickets and corporate sponsorships are available NOW!
IN-PERSON 3RD ANNUAL #LIVEFORALYSSA
MAKE OUR SCHOOLS SAFE BENEFIT:

THURSDAY, MAY 5, 2022, 6-10PM
PARKLAND GOLF & COUNTRY CLUB
Dress Code:
Jeans and Jerseys (Casual)

Silent Auction going on to support MOSS
Fill out the following form to get the invite.