A MOSS Club Member's Plea to the Government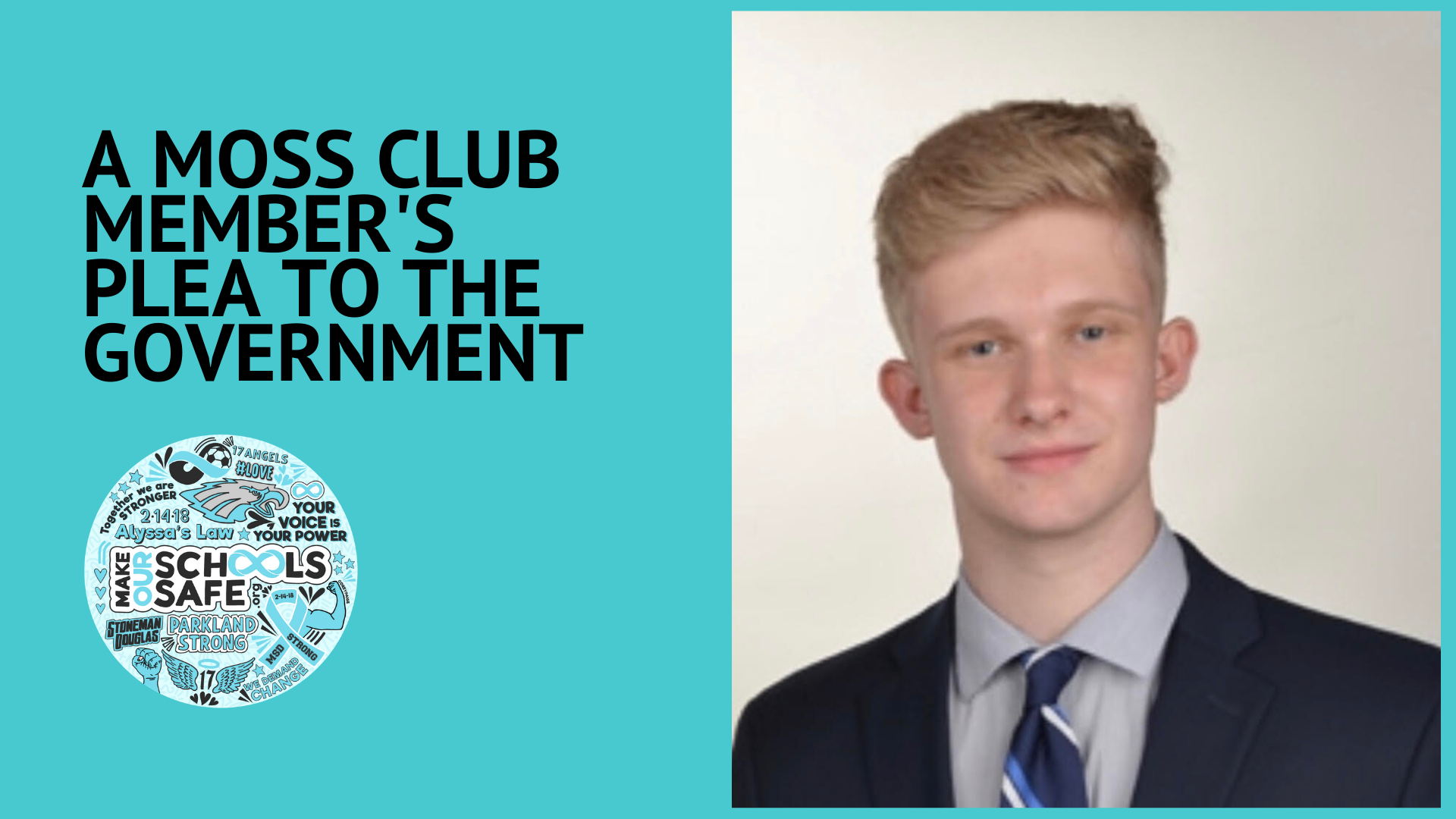 Dear President Galvano and Speaker Oliva,
On February 14th, 2018, at 2:25 P.M., I was in my European History class, listening to a lecture on Prussia. My friend Seth, sitting at the desk next to mine, looked over to me with a piercing sense of alarm, glancing urgently at his phone. A Snapchat video of students frantically huddled under their desks was playing, the caption reading: "our [expletive] school is getting shot up."
As the video continued to loop, the outside world faded away. My teacher's lecture disassembled into unintelligible tones as gunshots and screams in a classroom just fifteen minutes away from my own pierced my consciousness. In a panic, my eyes darted about the classroom in search of comfort, mutual alarm — something to break the sickening incongruity between the normalcy of the lecture and the horror of the shooting.
Over the following weeks, grassroots movements such as March For Our Lives took shape. They were influential, but their focus on gun control was highly controversial; any meaningful reform would take too long to realize in the hyper-partisan House and Senate. Furthermore, after a relatively-long news cycle, the same haunting normalcy from history class silenced the majority of cries for action. The normal routine reinstilled: school shooting, digital prayers, and a GoFundMe or two.
Looking back, 2018 bore the most school shootings of any year in history. And 2019, while comparatively less shooting-ridden, still brought tragedy to schools across the country. It is for this reason that we must take action against school shootings. Not action against Floridians' 2nd Amendment rights, but action in the form of a law that will adequately protect students from on-campus threats.
This law is called Alyssa's Law- SB 70, and it would require "each public school to implement a mobile panic alert system for specified purposes beginning in a specified school year" authorize "public school districts to implement additional strategies and systems for specified purposes", and require "the Department of Education to issue a competitive solicitation to contract for a mobile panic alert system, subject to appropriation, etc." (flsenate.gov). It is named in honor of Alyssa Alhadeff, a Marjory Stoneman Douglas student who tragically lost her life in the shooting.
As a high-schooler in Florida, I look eagerly forward to a time when I no longer must fear for my safety every day due to my school's lack of security. Alyssa's Law is the first step towards that future. Yet there is still much to be done. In working with Make Our Schools Safe, a nonprofit that raises money for school safety solutions, I learned of many best-practice safety measures that should follow the passing of Alyssa's Law in Florida. The first of such measures are called Stop The Bleed kits. These relatively inexpensive devices are similar to tourniquet kits and can grant students minutes of essential time in the event of a life-threatening emergency.
President and Speaker, please send SB 70 – Alyssa's Law to Governor DeSantis today for his signature. We cannot allow another year to go by without making schools safer. Witnessing a shooting in my local community opened my eyes to how dangerously underprepared our schools are in terms of combatting a shooting. And going to school with knowledge of this inadequacy is terrifying. True learning cannot be achieved if students are constantly reminded that they are at risk of being killed.
Thank you for your consideration,
Ethan Palmer