DearWorld.org – Lori Alhadeff's Valentine's Day Letter to Her Daughter Alyssa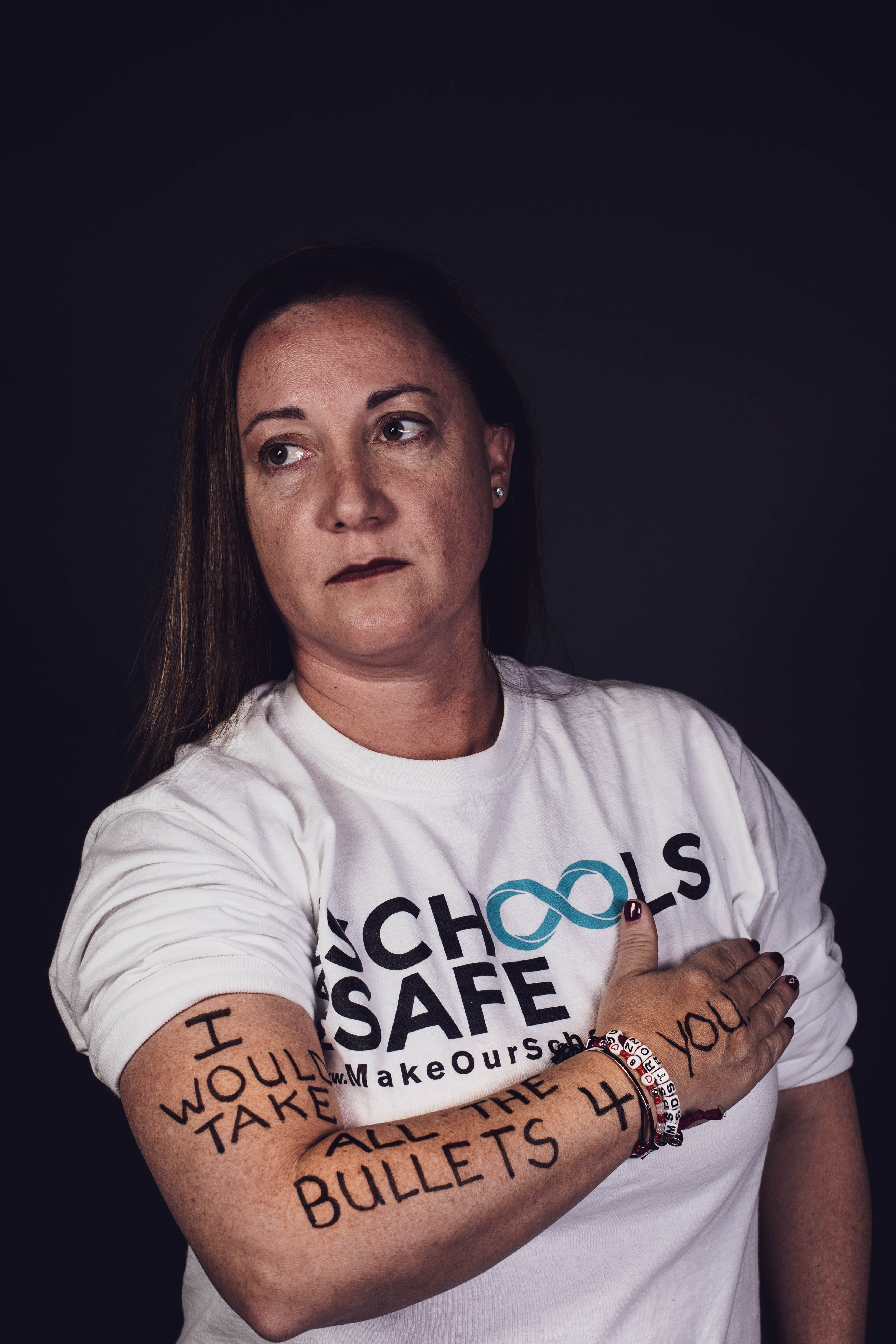 Image Courtesy: Dear World/One World Strong

DearWorld.org is a non-profit organization that connects creators and communities to help people learn important things about each other. The organization, founded after Hurricane Katrina in New Orleans, is known for its distinct portrait style, where each person writes the first line of a meaningful story only they can tell on their body.
Lori Alhadeff's portrait and love letter honors her daughter Alyssa Alhadeff, whom she tragically lost in last Valentine's Day shooting at Marjory Stoneman Douglas High in Parkland, Florida. Lori connected with Dear World through Dave Fortier, founder of the non-profit organization One World Strong and Boston Marathon Bombing survivor. Dear World founder Robert X. Fogarty stayed closed with many of those survivors including Dave Fortier. Lori participated in a workshop with Dear World that One World Strong organized, and began talking with Dave about a Valentine's Day tribute to honor Alyssa on the one year anniversary of the shooting.


This is Lori's letter to Alyssa.

Dear Alyssa,

It's Valentine's Day. A day full of love, chocolates and flowers.

For me, it is more than that now. Last Valentine's Day was the last time I saw you. You wore a black and white dress. Your long dark hair dangled. Your makeup looked just right. Of course, your white Converse sneakers protected your feet as you walked in to Marjory Stoneman Douglas High School.

Valentine's Day is now about memories. Today, like all days, I remember.

I remember you weren't looking forward to going to school that day. Like many 14 year old girls, you wanted a Valentine and were disappointed that you didn't have one. High school love is magic. I was 14 once and those butterflies had whirled inside of me too.

I wanted that for you.

I remember the golden gift bag I gave you that morning. It held a pair of diamond earrings to make you feel pretty, a chocolate bar to make you smile, and hair ties so you wouldn't ask for mine.

I touched your ears, putting the stems of the earrings through your lobes. You said you were ready to go to school after that.

You opened the car door.

"I love you," I said.

"I love you, too," you said.

Valentine's Day. The last time I saw you alive.

****

A year has been a long time without you. So much has happened I want to tell you about.

I watch your brothers miss you terribly. They want you to know they miss fighting with you. They say thank you for convincing dad to get unlimited WiFi.

Dad fights for you every day. He's your voice.

Grammy has honored you and became a school safety activist.

We got a dog! Her name is Roxy and she's a soccer player, like you. She kicks the ball around the yard, but sometimes puts it in her mouth.

And your soccer team…wow, what a group. They wear your number eight on their sleeves and have starting using it sideways to honor you. Infinity.

Oh, and I found out about the time you jumped off a bridge down by the beach?!

Alyssa, you jumped off a bridge?!

****

There are things I do in your memory that I never thought I could or would ever do.

See, a mother's protective instincts don't leave when we lose the ones we love. I talk to other moms who have lost children. We talk about you. We talk about their kids. But when we look into each other's eyes, we see it.

A fire.

I ran for the school board. I won! I screamed on national TV—words of rage directed at the President! I started a non-profit called Make Our Schools Safe and there is a law named after you in New Jersey–Alyssa's Law.

****

Mothers know.

Intuition prevails.

Mine came as soon as someone told me there'd been a shooting at school.

I knew you were gone.

Rabbi Gutnick said, "Have faith, Lori." I said, "No, you must start planning now."

You were with me.

I knew it.

We lost 14 students and three teachers. 17 beautiful people we, as a community, needed to bury. You were the first.

The next day, Rabbi Gutnick presided and hundreds of people came from all over the country.

If you remember from Bat Mitzvah classes, shivas last seven days when a loved one dies. In those seven days, I got so many hugs from people who loved you. From family.

From people I'd never met. So many that I injured my neck. People, in a sense, loved me until it hurt.

****

It's Valentine's Day.

As I remember you, grief washes over me. But that grief emboldens me to fight for change.

I wish I could take all the bullets for you.

It's been a year since I saw you.

You, in that black and white dress, those Converse on your feet, and that smile. I'll never forget that smile.

It feels like yesterday.

I just want you back.

Love forever,

Mom
Click here to Donate to Make Our Schools Safe in Alyssa's honor.